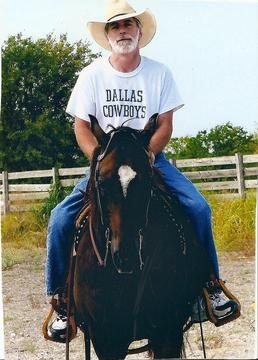 In Memory of Daniel Gunn
2/5/59 - 6/6/07
I HAVE ASKED MANY PEOPLE, WHAT DO YOU SEE IN THIS PICTURE?
THE RESPONSES WERE:
A MAN ON A HORSE, A COWBOY FAN, A MAN THAT IS SMILING, A COWBOY ON A HORSE
WHAT NO ONE SAID THEY SAW, WAS A DISABLED PERSON.
I will never forget the day Daniel came to one of my competitions and I saw that look in everyone's face as he hobbled up to the arena. In everyone's eyes I saw that look of pity. Usually a person will catch themselves and stop that look, but for a few seconds, there is that unmistakable look of pity. It then occurred to me that in every person he passes by, he sees that look of pity, and with every step he takes, he feels that brace, that constant reminder of the many things that he is no longer able to do.
After that first look no one paid much attention to him until he walked by the bleachers, and continued to walk into the arena. Then their looks of idle curiosity turned to confusion. Then their expression turned to that of horror as I helped him get up on my best competition horse, who they all knew to be a very physical and quick horse, only suited for a very seasoned rider. I had prepared him quite well, so although he had a rough start he quickly figured out what to do. After a few runs, he made an incredible move (to block not one, but two calves in a ranch sorting competition). This is a very difficult move for even an able bodied competitor. When he rode out of the arena everyone was yelling, whistling, and applauding him.
The beauty of it was, they weren't applauding because a disabled person rode a horse, they were applauding a competitor who just had a fantastic run. When he rode out of the arena, the looks of pity had transformed into looks of respect. And I will never forget the look on Daniel's face. For that glorious moment, he did not feel the damaged leg or the brace. He felt normal again and even better than that he felt 'whole', which he had not felt in a very long time.
I had to do some special training for my horse to react appropriately because Daniel could only exert pressure or cue him with the left leg. I also had to desensitize the horse to ignore the movement of the leg that Daniel didn't have any control of. I then modified the saddle to accommodate Daniel's limitations. I used a strap to adhere the stirrup leather to the girth just enough to allow his damaged leg limit the movement and move naturally with the horse's rhythm. I then put a strap to keep his prosthetic foot in the stirrup. Of course, that strap was not very strong so that if Daniel fell to that side, if enough pressure was exerted on the strap it would break and allow him to be free of the saddle. This special training for this horse to accommodate Daniel's limitation was surprisingly easy and did not take very long. And when I saw the pride in his eyes on that day, it was certainly worth every minute.